But 'n Ben - Unst Chalet
The tiny coastal village of Inverkirkaig is set in the county of Sutherland, a lovely and unspoilt part of the N.W. Scottish Highlands. Situated in a beautiful location in the corner of Inverkirkaig bay, the chalet is about 20 metres from the waters edge.
There are beaches where children can explore and play and you can wade out quite a way when the tide is in, either for general splashing about, or if you need to get out to a boat moored in the bay. The bay is ideal for windsurfing, dinghy sailing and canoeing with most wind directions.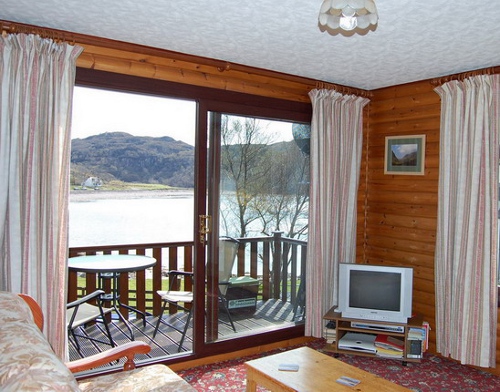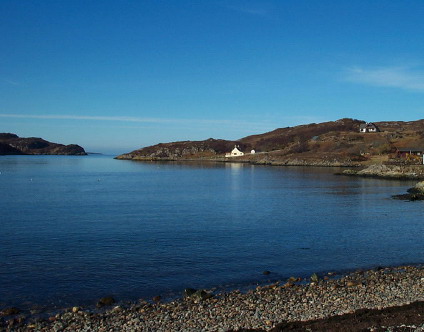 Please note: so that everyone is able to enjoy their stay with us, the chalet is non-smoking and we do not allow pets (of any size).
Our But 'n Ben has a balcony with stunning views out over the bay. Taking breakfast outside, to the accompaniment of the sights and sounds of the bay, is a fine way to set you up for the day and leave behind the cares and worries of everyday life. There is also a picnic bench outside set on a vantage point. There are some beautiful coast and hill walks almost on the doorstep and there is an abundance of all sorts of birdlife and wildlife. There are several fishing locations within about a 15 mins. walk from the chalet.
The term 'But ' n Ben'
For those not familiar with the term 'But 'n Ben', the etymology is from the Scots language for a two roomed cottage which in present times tends to be a Scottish holiday cottage with the Butt end being the livingroom and the Ben being the sleeping area. The term was immortalised in the Sunday Post by the much loved 'The Broons' cartoon strip (along with "jings, crivens and help ma Boab"), who had their But 'n Ben 'somewhere in the highlands'. Traditionally, there would have been no mains electricity and lighting would have been by paraffin lamps and water would usually have been drawn from a nearby well or loch or possibly a tank filled by a stream. Although this can be good fun, when you visit our But 'n Ben, you will find we have made some improvements over the traditional 'facilities'!